Jack Welch reported aboard the USS BUSH on May 19, 1944 while the ship was at Mare Island (in the San Francisco Bay area) for repairs and upgrades. Seaman 2nd Class Welch was just about three weeks from turning 25 years of age.
Welch had been sworn into the U. S. Navy in mid February, 1944 and promptly headed to the Great Lakes Naval Training Center for boot camp. He left behind his wife Frances and three small children (Jacqueline, Patricia and Cleon) as he answered the call of duty.
Jack Welch was among a number of new sailors fresh from basic training that were reporting aboard ship in May, 1944. The Navy was transfering some experienced sailors to new ships and and assigning new sailors to help fill the needs of an ever growing fleet of ships.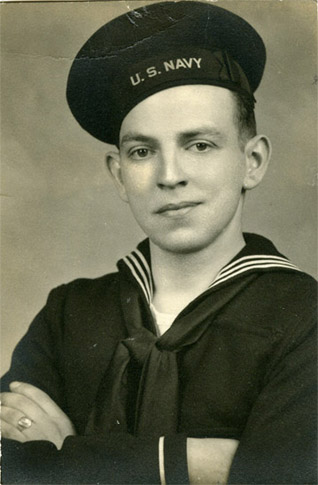 Jack B. Welch-S1c
By April 6, 1945 Jack Welch's rate had increased to Seaman 1st Class. He would survive the three kamikaze strikes on DD-529 and the ship's sinking, but not his time in the water. His remains were found adrift in the sea by the crew of the LCS(L)-37. That ship's Pharmacist's Mate, Gil Molstein-PhM1c, remembered "It was a very dark night and someone aboard our ship said they saw bodies floating in the water. I went to the starboard side and that was so true. Ensign Robert J. Wisner, some of the crew members and I used grappling hooks to pull the bodies from the water. We would hook into their life jackets and pull them aboard ship. They were carried to the fantail of the ship .... I remember one who had his family picture tucked inside his life jacket."
The remains of those recovered by the LCS(L)-37 would be transferred to the transport ship USS APPLING (APA-58) and eventually to Okinawa Orange Beach 2. In 1949 the remains of Jack Welch were returned to the States for burial in Sunbury, Ohio.
Jack Welch wrote the following letter home to his folks just 13 days before the ship's final action. It provides a nice glimpse into his world and his life as a World War II sailor.
U. S. S. BUSH (DD-529)
25 March, 1945
Hello Folks,
It's Sunday again, believe it or not and more than likely the last Sunday you'll be getting long letters from your son. Got to cut this short but at least it's a letter. Right? Went to church this morning over on another ship and after this ... and a few little jobs in this office I got ready for chow. We had chicken for dinner today and tonite for supper we had ice-cream, which makes a sailor very happy as these are two delicacies we don't see very often.
This afternoon I was on this beach on a liberty party and didn't get back till about 6 P.M. Had a good time and liked to walk myself to death. Boy!, it felt good to walk on that terra-firma once more, quite different from these decks I've been walking on for quite sometime now. After I get this written to the both of you I've got to type up tomorrow's watch list and morning-orders so please excuse the writing. When this work is over I'm "hitting the rack", turning in for the night as your son is pretty tired out.
Got some more mail tonite but as yet haven't read it, will do so though in a few minutes. Oh, yes, both of you had some letters in this deal for me, also my faithful Frances. Don't forget, even though you fail to hear from me regular, please keep up the good work on these letters of yours, both of you. So it's good-bye to the swellest parents in the world, and Mom and you too Dad, this means "you"
From Your Favorite Son,
Jack
Jack Welch S1/c