Lt. (jg) Richard P. Anderson was one of the original officers helping to put the USS Bush into commission. He had quite a bit of life experience prior to his time with DD-529.
Born September 18, 1918 in Chicago, Illinois - he enlisted in the Illinois National Guard in September 1935 and so served for 3 years, being honorably discharged in September 1938. Less than a year later, on April 10, 1939 he enlisted in the United States Naval Reserve. On July 27, 1942 he accepted an appointment as a Cadet in the Merchant Marine Reserve, U. S. Naval Reserve. Less than one month later, that title was changed to "midshipman" - Merchant Marine Reserve. As that training concluded, on February 3, 1943, he was appointed an Ensign E-M (engineering), retroactive to November 30, 1942 ... superseding his appointment as midshipman in the Merchant Marine Reserve.
The Navy was eager to staff the numerous ships that were being built as part of the war effort. The experienced and capable Ensign Anderson was one of many who helped fill those needs. Thus, on February 15, 1943 his association with the USS Bush began in earnest. He was ordered to report to the Supervisor of Shipbuilding, USN, San Francisco, California for active duty in connection with fitting out a vessel and duty on board that vessel when commissioned. That ship was the USS Bush, commissioned May 10, 1943.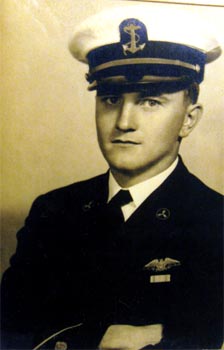 Richard P. Anderson - WWII Merchant Mariner, USNR
On April 1, 1944, Anderson was promoted from Ensign to Lieutenant (jg). No longer an Assistant Engineering officer, he was given responsibility for all engineering activities as he was made the ship's "Chief Engineer". He would maintain this assignment until he and the ship were lost in combat during the battle for Okinawa.
Below are excepts from several letters, along with some pictures. The first two letters Anderson wrote to his brother Harry who was serving in the United States Army's 347th Harbor Craft unit, also in the Pacific Theater. A third letter is to him from his brother Harry. Harry's letter, dated April 10, 1945 was "returned to sender" as Richard Anderson had been killed a few days earlier on the afternoon of April 6th. The two Anderson brothers were very close in age, with Harry being the older one by about 1 year. The final letter from which excerpts are shown is from Commander Rollin E, Westholm, the Commanding Officer of the USS Bush at the time of her sinking. This last letter was written to Anderson's father to share information about Rich's death and service aboard the USS Bush.
Beyond the glimpse into Anderson's personality and strong family ties, these letters help remind us how much slower information traveled during World War II than occurs today.