Donnell Mills hailed from Montana, having been born in March 1925 in Great Falls. By the age of 4 years both of his parents had died and Donnell was taken in by his oldest sister, Valera, who along with her husband. As he grew, his sister continued to be his legal guardian but he spent most of his time with his older brother, Earl, who continued to operate the family homestead growing wheat and barley and raising livestock.
When Donnell reached the age of 17, he was pestering his older siblings to allow him to enlist. In November 1942 his older sister relented and allowed 17 year old Donnell to enlist. So on December 7, 1942 Donnell joined the United States Navy. Soon he was on his way to the Farragut Naval Training Station near Coeur dí Alene, Idaho to complete his initial training.
After basic training, Donnell was assigned to his first ship and became part of the USS Bush commissioning crew, reporting aboard as a Seaman Second Class on May 10, 1943.
Donnell Mills became part of the ships engineering division. He must have been a capable sailor as by April 6, 1945 his rating had increassed to Machinist Mate Second Class.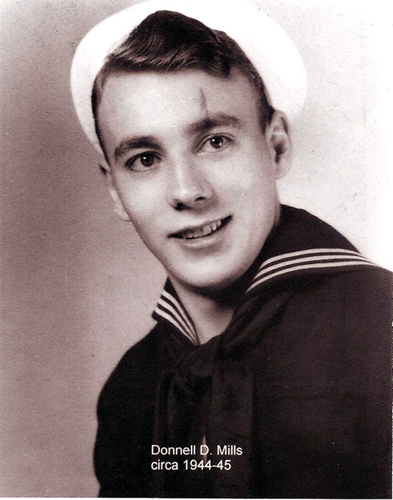 Donnel Mills - MM2c
On April 6, 1945, as destroyer BUSH lived her last moments in action against aerial forces from Japan, Donnell was at his station in the forward engine room. The first suicide plane to strike the ship hit right at the water line between the two smokestacks on the starboard side. The plane, along with the bomb or torpedo it carried, created a tremendous explosion. In an instant, Donnell and all personnel in the forward engine room were gone.
After the ship's sinking and rescue of surviving personnel, much time was spent in accounting for the disposition of each man aboard ship. Men such as Donnell, were declared missing in action as there was no body to recover. Getting even limited information to surviving family was a lengthy process by today's standards.
Excerpts from a letter to Donnell's oldest sister from the surviving Commanding Officer of USS BUSH read as as follows: