USS BUSH (DD 529)
"Chief Petty Officers - October 1944"
Back to Photos List
---
Many of the Chief Petty Officers (CPO's) aboard the USS BUSH in October 1944 are pictured below. This photo was taken about the time of the Leyte invasion in The Philippine Islands. The Navy Chief was usually one of the most experienced and respected sailors aboard ship. A brand new Ensign was often wise to pay attention to what the CPO's had to say.
When a sailor became a Chief, it was a big deal. The Chief acted as the foreman for a group of men within a particular unit. Beyond the increased responsibilities came a new uniform, as evidenced by many of the caps in this picture, and separate living quarters. There were several classifications of berthing areas aboard ship. These included quarters for the Enlisted men, the Chief Petty Officers, and the Officers. The ship's Commanding Officer had his own private (but small) quarters, sometimes referred to as the Captain's Cabin.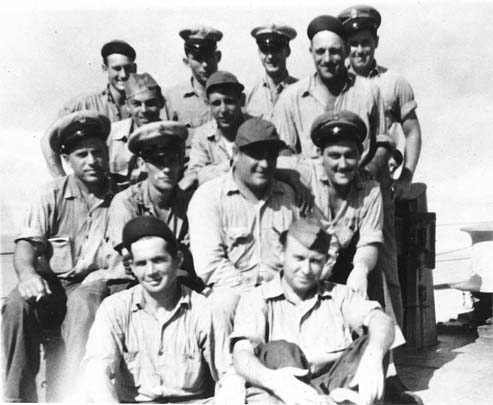 From Left to Right:
Front Row
Thelmer Hobby - Chief Gunner's Mate; Clarence Homer - Chief Pharmacist's Mate
Second Row
Floyd Harper - Chief Machinist's Mate; Charles Youtsey* - Chief Water Tender;
Floyd Carson - Chief Gunner's Mate; William Danekas - Chief Water Tender
Third Row
John Duryea - Chief Yeoman; Stephan Krygier* - Chief Fire Control;
Frank Schwarzin* - Chief Electrician's Mate
Back (Top) Row
Ralph Garnett - Chief Bosun's Mate; Joe Barnes - Chief Machinist's Mate;
Frederick Hollen - Chief Radio Technician; S. R. "Ray" Mayhugh - Chief Torpedoman's Mate
*Lost with sinking on April 6, 1945
Back to Photos List
---
Home ||Short History ||Deck Logs ||Final Action Reports ||Photos

||Recollections ||Ship's Poetry ||Sailors Lost ||Fletchers ||Glossary ||Links