USS BUSH (DD 529)
"Bosun's Mates & Coxes - February 1945"
Back to Photos List
---
Aboard the USS BUSH, the men pictured below were part of the Deck Division. They were Boatswains Mates (called Bosun's Mates) and Coxswains (called Coxes). For these men, duties included much of the hull and deck maintenance chores, operating the ship's motor whale boat (the Captain's Gig), or "piping" people aboard with the familiar Bosun's pipe (see second picture below).
This picture was taken in February 1945, just weeks before the BUSH would meet her fate off island of Okinawa.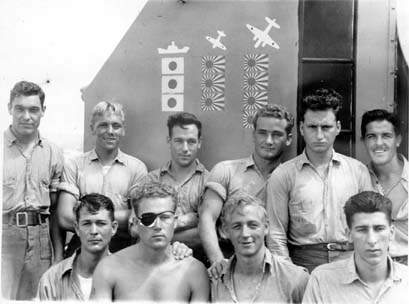 From Left to Right:
Front Row
Carmen Miller, Cox - Herschel Northcutt, S1c - John Spears, BM2c - Wilfred Huard*, BM1c
Second Row
Wesley Northey*, BM1c - Herbert Dost, Cox - Russell Daly, BM2c - Duard Martin, Cox - Freeman Yates*, Cox - John Mart*, BM2c
*Lost with sinking on April 6, 1945
---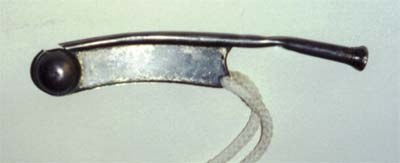 Above, a picture of the bosun's pipe belonging to John Spears,
Bosun's Mate 2nd Class. This pipe survived with John on April 6, 1945.
Though a bit bent, this pipe was played again as John's fallen shipmates
were remembered during reunion ceremonies more than 50 years later.
Back to Photos List
---
Home ||Short History ||Deck Logs ||Final Action Reports ||Photos

||Recollections ||Ship's Poetry ||Sailors Lost ||Fletchers ||Glossary ||Links