Once at the beach, Ted was transferred to Boat #4 and beach duty, while Boat #3 was slated to remain at the landing site transferring wounded and running other errands. After spending the night on Los Negros, Ted and Boat #4 helped transfer wounded soldiers for medical treatment to the USS BUSH.
Ted recalls that after one run, Boat #3 took a shell, killing several G.I's and wounding the sailor that had taken Ted's place. Notes Ted, "Around noon we evacuated some wounded G.I.s to the the destroyer BUSH which was patrolling off shore. It was chow time and the crew invited us to lunch. They took us to the head of the line and treated us like heros. I gave them some battlefield souveniers, Jap ammo and such. We grabbed a quick lunch because the ship couldn't stay in one position too long .. We had brought the real heros as I discovered when I looked down on the deck of our boat. It was red with blood and not from our crew. I washed the decks with pails of sea water and the bilge pump dumped the gore overboard. We repeated the process twice."
The USS BUSH deck log for D-Day +1 (March 1, 1944) indicates that wounded Army personnel were delivered to the ship at 1029 hours (5 soldiers), 1227 hours (3 soldiers), and 1617 hours (2 soldiers).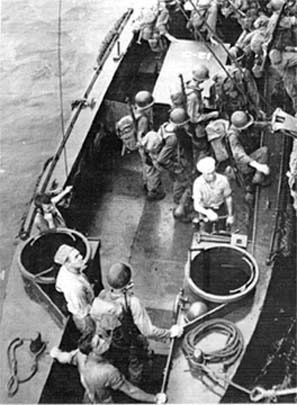 Landing Boat Drills - late 1943 or early 1944
That's Ted on the phone, next to the spot where the starboard machine gun would be placed.