Robert Aguilar joined the Navy in the first week of 1943, taking his oath on March 5, 1943 at the Naval Training Station in San Diego, California. After completing his boot camp training, he was moved to San Pedro California and from there to the Aleutian Islands. On September 13, 1943, Robert Aguilar reported aboard the USS BUSH while the ship was at Adak.
Initially, Robert was assigned to the Deck Division, which meant he did a lot of sweeping, swabbing, chipping, painting and dumping the trash. Robert was pretty good with a typewriter and let some of the ship's storekeepers know. In two or three months, Supply Officer Doble Doyle summoned him and he became part of the ship's S-Division.
Robert reports that he "eventually became responsible for maintaining all of the pay records and was promoted to Storekeeper, Disbursing Second Class."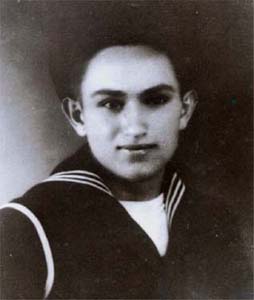 Robert Aguilar - the new sailor
fresh from boot camp in 1943
For awhile Robert's battlestation was as the Sight Setter in the #5 5-inch gun. Sometime in 1944 he was assigned a new battlestation, becoming the crew chief of the #5 5-inch handling room. This room is located below deck, just under the #5 gun on the ship's fantail. The handling room crew ensured there was a steady stream of the correct ammunition passed to the #5 gun mount. Robert estimates he and about 12 other sailors comprised the handling room crew. It was there, in the late days of 1944, that this team wrote the poem "The Fighting 29 Was There". The poem can be found in the poetry section of this website.
Robert was still assigned to the USS BUSH when she was lost to three kamikaze planes on April 6, 1945. Since he was responsible for the payroll records, there was much work required after the ship was lost. He performed the payroll work aboard the USS HENRICO, a ship where most USS BUSH survivors had been assembled.
In 1999 Robert wrote, "The HENRICO had taken a 500 pound bomb that came in on the starboard boat deck, went through the supply office and on to the port side before detonating. The supply/disbursing office was a disaster and they, too, had lost their pay records. HENRICO storekeepers and I agreed that they would work on their pay records during the day and I would reconstruct BUSH's records at night, sharing the only typewriter.. There was a regulatory requirement that each survivor execute a sworn statement describing the status of his record to the best of his knowledge. In the turmoil and difficult working conditions, I rushed to the intercom to instruct the survivors, without getting approval. Captain Westholm promptly summoned me and, at some length, pointed out that he was still in command of the crew of the BUSH. However, I was to go ahead and do whatever had to be done.